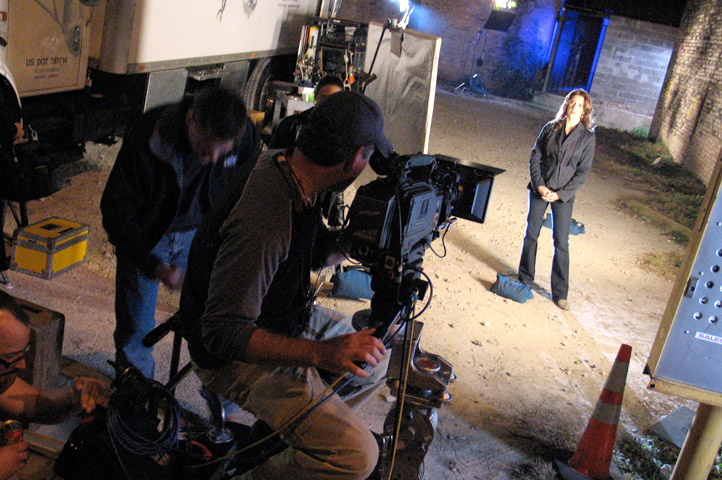 Welcome to Shamus Television, Inc.  I am told by Chris, my savvy web design brother, if you want to be noticed on the web you have to blog….  so here it goes!
STI is a Detroit area based HD camera crew.  I am the DP and work with sound man, Tom Moore.  For well over a decade we have, covered breaking news, worked on documentaries, magazine shows, and commercials.  We have a diverse client base that keeps us sharp in many production principals.
Besides keeping you up to date on interesting things I am doing, I hope to open discussions
about equipment, techniques and any other production topics that need attention.  Please comment, ask questions and participate.
This photo is setting up for a stand up for 48 Hours. Magazine shows today want the camera moving and the lighting dramatic.  Dollies, prime lenses are now in play.  The next day you might be chasing someone down the courthouse steps. These types of shows expect you to be good at both!
For those clients who have made this company successful, thank you!!  Let's do more!  If you are new to STI, go to contact page and drop me a note. Calling works too.
So there is my first Blog.  I have a couple of projects coming up that might be of interest. Check back in a couple of weeks.
A big THANK YOU to Tom Moore, my sound tech and personal photographer. He is responsible for the great images on this site.  He has been documenting our adventures since we met. I am grateful for his efforts and talent.
Mike
https://shamustv.com/wp-content/uploads/2014/02/on-location.jpg
480
722
cshamus101
https://shamustv.com/wp-content/uploads/2014/01/logo.png
cshamus101
2014-02-07 21:02:52
2014-11-17 13:58:44
Welcome